AstroChem™ Waterless Wash & Wax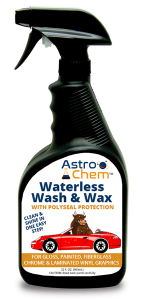 AstroChem™ Waterless Wash & Wax cleans and shines all surfaces SAFELY and QUICKLY without using water. No need for scrubbing, rinsing or drying! This great smelling formula contains no harsh solvents and is fortified with Polyseal Protection to give your vehicle a deep rich shine that protects from UV damage, acid rain and water spotting. Cleans, shines and protects painted surfaces, chrome, aluminum, fiberglass, plastic, rubber and laminated vinyl graphics. 
Directions: Lightly mist surface with Waterless Wash & Wax and gently wipe dry with a clean, dry microfiber towel. When towel becomes dirty or saturated. switch to a fresh towel. Do not use on hot surfaces as product will dry too quickly and will not clean as effectively.
Details:

Clean & Shine in one easy step
Cleans & Shines all surface safety & quickly
Also works great on matte finish paint
With Polyseal Protection
Protects from UV damage, acid rain and water spotting
Deep rich shine
Just spray, wipe and you're done
Removes dirt and grime without scratching
Use on painted surfaces, chrome, aluminum, fiberglass, plastic, rubber and laminated vinyl graphics
Use On:
Automobiles
Fiberglass
Motorcycles
Chrome
RVs / Campers
Laminated Vinyl Graphics
Trucks
Painted
Gloss