AstroChem™ Tire & Rim Cleaner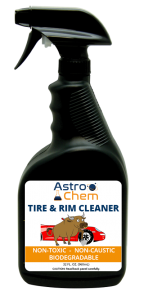 AstroChem™ Tire and Rim Cleaner is a non-toxic, non-caustic, biodegradable blend of premium surfactants which effortlessly breaks down grease, oil, tar, road grime, and brake dust releasing them from the tire and rim surfaces for easy cleaning. Contains no petroleum, ammonia or bleach. Will not dry out tire or cause premature degrading of rubber materials. Safe on all chrome and painted surfaces. Hypo allergenic and safe for the environment.
Directions: Spray cleaner generously onto wheel. Scrub with brush to remove any remaining dirt. Rinse well with water. Always be sure to allow your wheels to cool before cleaning.
Details:

Non-toxic
Non-caustic
Biodegradable
Premium surface-active agents
Effortlessly breaks down grease, oil, tar, road grime and brake dust
Contains no petroleum, ammonia or bleach
Won't dry out tires
Won't cause any premature degrading of rubber
Safe on Chrome
Safe on painted surfaces
Excellent on raised lettering and whitewall tires
Keeps rims shiny and whitewalls bright
Environmentally safe
Made in the USA