AstroChem™ Interior Fresh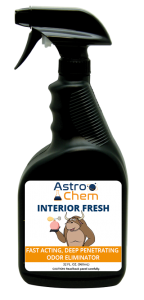 AstroChem™ Interior Fresh is a deep penetrating, fast acting deodorizer that leaves automotive interiors smelling clean and fresh by eliminating odors on fabrics, carpets and upholstery. Interior Fresh also reduces allergens left on fabrics from pets and dust mites and eliminates stale smoke odors.
Directions: Coming Soon.
Details:

Deep penetrating, fast acting deodorizer
Clean and fresh scent
Eliminates odors on fabrics, carpets and upholstery
Reduces allergens left by pets and dust mites
Eliminates stale smoke odors
MADE IN THE USA